Poplar Hill Dairy Goat Farm's Adopt a Goat Program
Poplar Hillís Adopt A Goat program is a fun and unique gift. Simply supply the recipient's name, phone number, email address and mailing address and we will send the recipient details. We'll even include a note stating the Adopt A Goat gift is from you. If you prefer, you can pick up your Adopt a Goat items at the farm.
We offer several package prices starting at $50.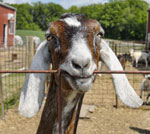 All Adopt a Goat packages include:
A laminated certificate with photo of and details about your goat
Quarterly updates about your goat
Farm product/services flyer
Discounts on the Full Farm Tour
Discounts on the Baby Goat Experience
Some Adopt a Goat packages include:
1 annual visit with your goat
Poplar Hill Dairy Goat Farm T-shirt
Free goat milk soap
Free goat milk
Please note this is a symbolic adoption - you do not own the goats.
Questions? Call or text Sarah at 651-442-2506 or email us at adoptagoatmn@gmail.com for more details.
Home | Does For Sale | Bucks For Sale | Show Wins | Goat Milk | Goat Cheese | Goat Milk Soap
Photo Album | Farm Tours |Testimonials | Contact Us | Facebook
---
Poplar Hill Dairy Goat Farm - Scandia, Minnesota USA
Copyright 2022, Poplar Hill Dairy Goat Farm. All Rights Reserved.